Vodka AVINAA brings the national pride that AVIA Corporation wants to spread to international friends.
Vodka AVINAA with A-Grade quality brings the national pride that AVIA Corporation wants to spread to the Vietnamese community and international friends.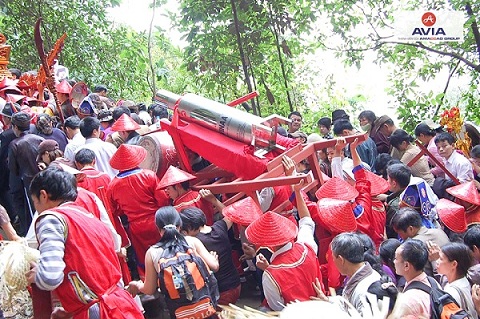 In the line of pilgrims to Phu Tho Province, Mr. To Nhat – General Director of AVIA Corporation (member of AMACCAO Group), along with staff, honored to offer the Hung King the worthy AVINAA Vodka wine which Mr. Nhat and the creators have dedicated the heart of creativity. The founders of AVIA Corporation have visited nine countries in the world that are famous for alcohol to learn how people make Vodka, to create a wine product bearing the seal of the Vietnamese.
In terms of technology, AVINAA Vodka is comparable to any famous brand such as Absolut, Smirnoff … because the product is manufactured on modern lines, meets strict European standards. Not only that, the taste of AVIA Vodka is always fragrant, also the same as the Vietnamese soul because the product is made from fragrant rice seeds by Vietnamese farmers themselves. It is a product that brings the national spirit, quality, and food safety through the system of distillation, filtration, filling, meeting the international standard to remove all toxin ingredients. AVIA Vodka was chosen by the festival organizers to offer to the Hung Kings.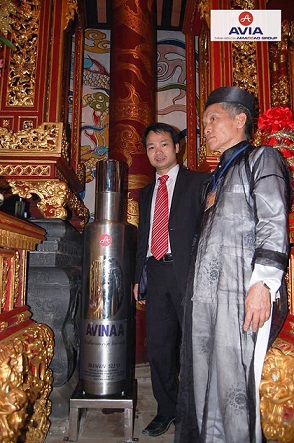 52.5l AVIA Vodka bottle is solemnly placed at Thuong Temple (Hung Temple, Phu Tho)
More specifically, this bottle of AVINAA Vodka has a height of 5.2 meters, a diameter of 1.17m, and a capacity of more than 4000 liters, becoming the largest wine bottle in Vietnam which was recorded in the record book of Vietnam in April 2010. Due to its size, the bottle is placed right under the temple grounds so that everyone can see it.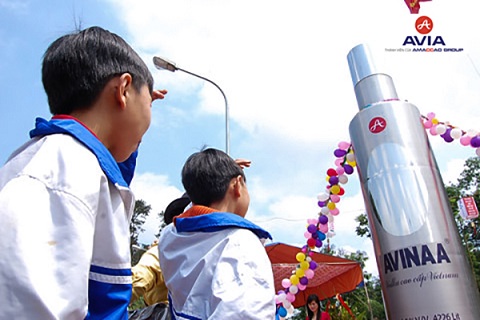 Huge AVINAA Vodka bottle with a capacity of more than 4000 liters
The entire process of raising wine to the Hung King, from production, permission, procession, sacrifice to the installation at the temple are all performed in a reverent manner. This gift is not only a precious gift to express the gratitude of the Hung Kings of the Lac descendants, but also the aspirations of bringing the Vietnamese brands comparable to the world's major brands and contributing to the promotion. Vietnam image and encourage national self-esteem.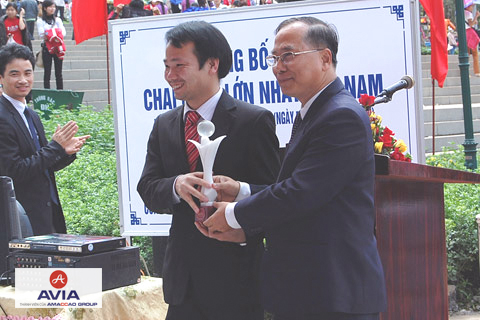 Mr. To Nhat (General Director of AVIA JSC) received the certification cup of Vietnam record
Not only Mr. To Nhat, but anyone who has been working at AVIA Corporation can not forget the AVIA image of AVIA branded bottle which appeared at Thuong Temple in the Hung King Commemorations. It is a very sacred and meaningful moment for the founders of AVIA in particular and the AMACCAO Group in general. National pride is the most meaningful thing that AVIA wants to introduce in each AVINAA Vodka wine quality product (highest and best) and trusted by domestic and international customers.