In order to thank and support the epidemic season to customers, especially customers living in Hanoi, AVIA organizes a promotion program that brings dual benefits to consumers "Buy 5 get 1 free". Just buy 5 AVIA products including:
AVIA 3A bottled drinking water 350ml and 500ml (units per barrel)
I-ON 3A Alkaline Water 350ml and 450ml
Bottled drinking water 20L 3A, alkaline I-ON water I-ON 3A 20L
Customers will receive 1 product of the same type.
2 double benefits customers get when participating in AVIA's promotion program
Benefit 1: Stable and sustainable pricing policy
From 2020, AVIA is determined not to adjust the selling price but still provide customers with A-quality products despite market price fluctuations. In particular, in the midst of the complicated epidemic season, the supply faced many difficulties, causing the market to increase significantly with essential consumer goods such as food, food, including drinking water. AVIA still maintains the same fixed price from only 3000 VND/bottle of pure AVIA 3A 350ml drinking water.
The competitive price policy aims to realize the mission of helping Vietnamese people always use clean and cool water from Vietnamese enterprises.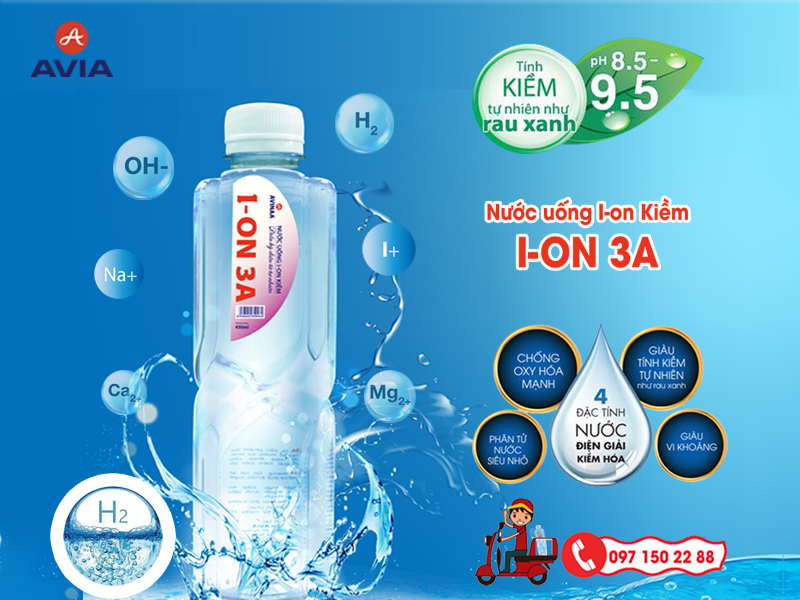 Benefit 2: Support the epidemic season buy 5 get 1 free delivery
I-ON 3A alkaline water brings many benefits to users
Especially, in the face of complicated epidemic situation and people facing many difficulties going out, AVIA offers a promotion program to buy 5 get 1 free product of the same type when customers choose products:
AVIA 3A bottled drinking water 350ml and 500ml (sold by carton)
I-ON 3A Alkaline Water 350ml and 450ml (sold by carton)
Bottled drinking water 20L
I-ON alkaline water I-ON 3A 20L tank
So, less than 3000 VND/bottle, you can enjoy the sweet and cool AVIA 3A drink.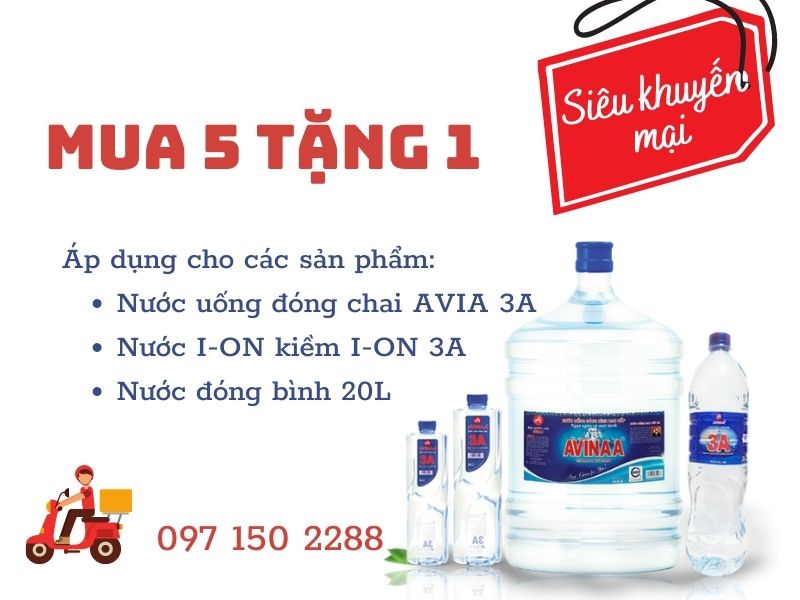 Why should you use AVIA drinking water?
In the midst of the competitive drinking water market with big and familiar names, AVIA is always confident to become the number 1 priority for every home because:
AVIA drinking water factory located in Nguyen Khe industrial cluster, Dong Anh, Hanoi owns one of the 3 best water sources in Hanoi located right below the factory 200m. This makes AVIA's water products always taste as sweet as natural rainwater without being brackish but many other types of water even though they have been carefully treated.
AVIA uses modern filtration technology and lines ordered directly from Germany. Modern lines allow products to be carefully processed and screened, removing all impurities, keeping only clean, pure water, ensuring food hygiene and safety. Especially with the modern machine system, which helps to minimize human intervention, so the quality indicators are synchronized and there are almost no errors.
Not only focusing on investing in pendants and technology, but AVIA also pays special attention to the human factor. The proof is that the team of high-quality engineers, Japanese experts working directly here are the people who are directly responsible for operating the machines, checking and supervising every stage to ensure the products. The output is always of the highest quality.
Currently, AVIA drinking water products are being sold at AVIA distribution systems
Contact now to order and receive direct advice via hotline 097 150 2288