From childhood memories of Vietnamese people, with rainwater collected from thatched roofs, areca troughs, in jars and jars in the sky, AVIA bottled water was born. Aspiration to keep the national soul, bring sustainable values ​​to Vietnam's beverage industry.
In 2005, the AVIA factory was officially built on the land of Nguyen Khe, Dong Anh, Hanoi, laying the foundation for the No. 1 brand and quality product in Vietnam in today's bottled water.
Talking about the investment in bottled water production, while there are already a series of big brands operating in the domestic market, Dr. To Nhat, Vice Chairman of the Board of Directors, General Director of AMACCAO Group said: Born in the northern countryside, like many others, I have been attached to the taste of rainwater since childhood. Rainwater collected from thatched roofs, from areca troughs, from jars and jars in the sky, … has become very familiar. It was from that memory that I dreamed of a drink with a Vietnamese soul and the bottled water factory of AMACCAO group was born.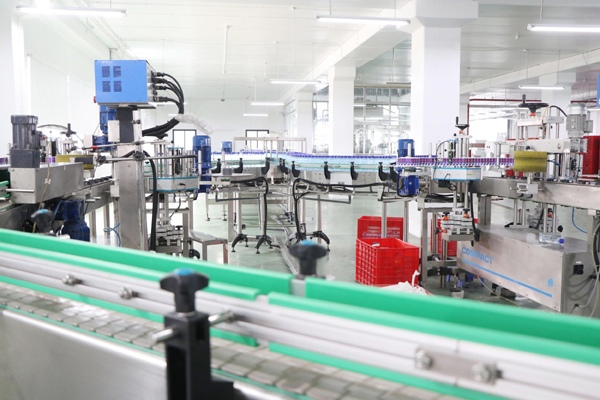 Modern production lines are imported from Europe
Finding a place with good quality groundwater is not easy. After many days of hard work by experts and engineers specializing in water, it was discovered that Nguyen Khe, Dong Anh area is a place with good quality groundwater. AMACCAO Group has invited leading experts from Europe to survey the water here. They took water samples for testing and concluded that the water here is of high quality, has a special energy source, and is very suitable for producing bottled drinking water.
It can be affirmed that there is no such clean and delicious water source in the North. Later, when AMACCAO Group invested in a winery here to produce high-quality Vietnamese wines, it invited a famous Japanese expert on Sake and Soju production to cooperate. This expert only accepted the invitation of AMACCAO, after taking a water sample here to bring it back to Japan for testing and seeing good results, he was very satisfied. According to this expert, if there is no water source with all the elements for wine production, he will never accept the offer, because he knows for sure that the product made will fail if the water source does not meet the standards.
Foreign experts directly manage and supervise output products
Once there is a good quality water source, AMACCAO Group has just started to import the most advanced production lines from Europe, America, and Japan for production. Groundwater is a part of the hydrological cycle that enters soil and rock systems from the ground. In fact, this water often contains much higher concentrations of elements than potable water standards, notably Fe++, Mn+, H2S, Ca++, etc. Therefore, groundwater needs to be treated and purified before use distribution.
With the world's leading modern technology, a fully automated production line, with reverse osmosis and ozone methods, groundwater, after being brought up from a depth of nearly 200m, is treated through a sophisticated filtration system through 10 levels, under the supervision and inspection of leading experts from Europe and Japan.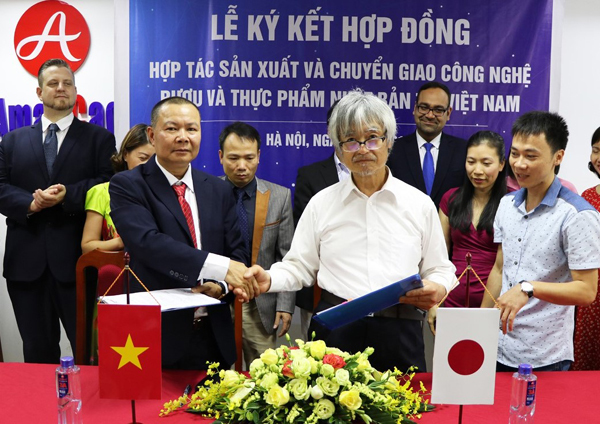 Contract signing ceremony with Japanese experts
In 2009, the AVIA factory officially came into operation and launched the first products, including AVINAA 3A pure bottled water. The difference of AVINAA 3A pure water is that it has a natural taste, sweet and cool like rainwater, an unforgettable drink once, but it is different from rainwater in that today rainwater is contaminated with toxic acids due to environmental pollution, while 3A water is absolutely safe for the health of the drinker
To create a product of pure water as sweet as rainwater, Mr. To Nhat shared: "AMACCAO invited experts from North America and Israel to study Vietnamese people's drinking habits and preferences. After 45 days of conducting a survey in the Northern region, experts have realized that Vietnamese people's habit is to like the taste of natural rainwater. Many homes today still have rainwater harvesting tanks for year-round drinking. After the survey, the experts decided to manufacture and adjust the filter line so that AVINAA 3A water tastes like natural rainwater. After that, the Group's customers and employees are tested by "blind testing". That is, put rainwater and AVINAA 3A pure water into 2 identical cups so that the participants can distinguish.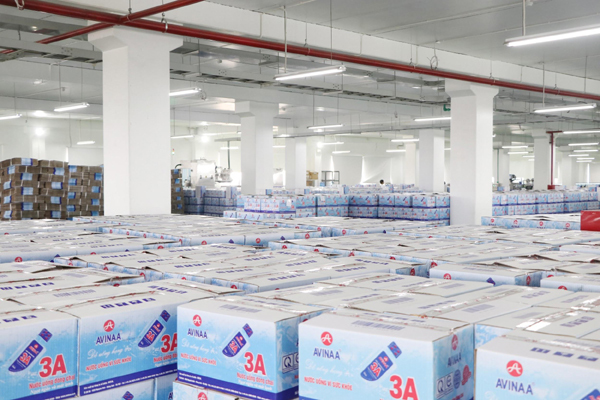 The boxes are ready to ship
As a result, no one can recognize which is rainwater, which is pure AVINAA 3A water. That affirms that AVINAA 3A water has a natural taste, sweet and cool like rainwater, unlike any pure water available on the market, but still retains minerals and is safe for human health.
The packaging of AVINAA 3A water is also very different. The water bottle has an impressive design, feels solid, convenient, pure, and clean. Bottles are created from primary plastic, imported from Saudi Arabia – This is where the world's best plastic beads are produced. Primary plastic will not create harmful substances, which dissolve into the water in the bottle like recycled plastic.
Therefore, right from the product launch, AVINAA 3A has been honored to receive noble titles and awards, and be honored in events. Currently, AVINAA 3A country has a consumption growth of 30-50% per year, even during the time of the Covid pandemic. That is extremely impressive growth for a product that has to compete with a series of world "big players" in the domestic market.
In fact, over the past 10 years, AVINAA 3A drinking water and AVIA branded products have been present and popular throughout the North. From the plains to the mountains, from the countryside to the cities, and is on the way "Southern progress" to conquer customers in the South.
By 2018, AMACCAO Group will continue to invest in expanding the capacity of the AVIA factory to meet the increasing demands of customers. Then the 3A Ion water product, which is an alkaline ionized drink, Japanese technology is very good for health, was launched in early 2020, and immediately achieved impressive sales.
On June 24, 2020, the first shipment of AVINAA 3A purified water was exported to the island nations of the Western Pacific. Ms. Ngo Thi Thanh Binh, Deputy General Director of Sales – AVIA Joint Stock Company said that a partner in Singapore came to us by himself, proposing to export AVIA's products abroad. We have sent product samples to review partners. Passing the "tests" of quality, they are very satisfied and agree to choose products of AVIA Joint Stock Company. The partners said that they highly appreciate the product quality and are impressed with the unique bottle design, the bottle is made of 100% virgin PET plastic, ensuring hygiene and safety. After this first shipment, the product will also be exported to the Singapore market, opening the way to conquer the Southeast Asian market in particular and the world market in general.
Not only preserving the traditional drink of the nation, AMACCAO Group also raises the quality of this drink to a new level. AMACCAO's efforts have been rewarded by consumers. Traditional values ​​of the nation have been honored in a new form, bringing AVIA branded beverage products to the number one position in Vietnam, a pride of Vietnamese aspiration and wisdom.