On April 10, 2019, AVIA JSC (A member of AMACCAO Group) held a signing ceremony of a comprehensive cooperation agreement with the representative of the Japan Food and Wine Association on the production of alcohol and alcoholic beverages and non-alcoholic in Vietnam.
After a period of negotiation, AVIA JSC and the leading expert of the Japan Wine and Food Association – Mr. Naoya Mano has come to an agreement on cooperation between the two parties on production and technology transfer of Wine and Food. Japanese products in Vietnam. Accordingly, Mr. Naoya Mano will go to work directly at AVIA Factory located in Nguyen Khe Industrial Cluster.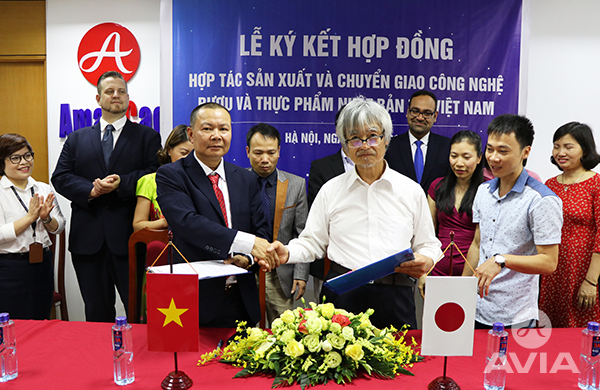 AVIA and leading Japanese experts officially signed a long-term cooperation
It is known that the cooperation signing ceremony between AVIA and Mr. Naoya Mano was witnessed by AMACCAO's Board of Directors and Mr. President of Japan Liquor Association TOSHIYUKI AKASHI.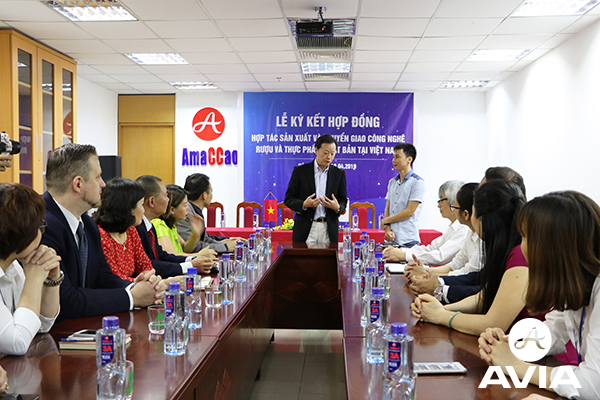 The President of Japan Liquor Association TOSHIYUKI AKASHI highly appreciates and believes in the cooperation between AVIA and the Japan Liquor Association
This is an important mark, marking a new development step of AVIA in accessing the world's leading winemaking technology as well as developing new product lines commensurate with AVIA's growing scale. particular and AMACCAO Group in general. Only 1 more month, the AVIA factory will complete the production and display complex with a modern and professional scale at Nguyen Khe industrial cluster (Dong Anh – Hanoi).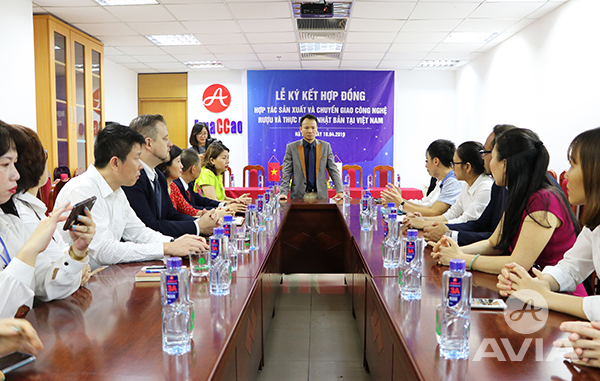 Overview of the cooperation signing ceremony
This is comprehensive cooperation between AVIA and Japan's leading Expert in Wine and Food to take advantage of each party's strengths, in which the strength of the Japan Food and Wine Association is the leading production technology. the world and especially experienced in the process of developing traditional wine products for the country. That will also be the development goal of AVIA JSC.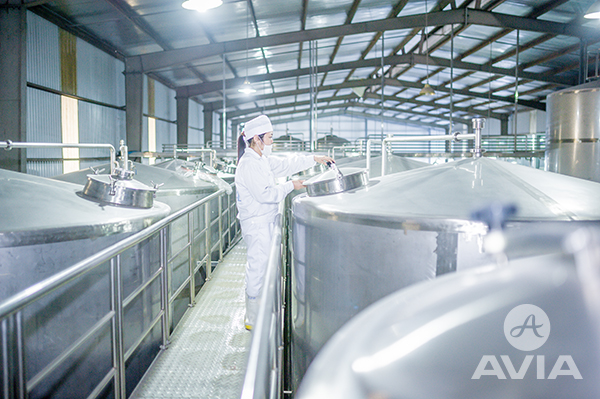 AVIA invests in a modern brewing tank system
And AVIA's strength is more than 10 years of experience in developing quality AVINAA branded wine and drink, ensuring food safety and hygiene, for the health of consumers, and being trusted and chosen by many people. Besides, AVIA has a staff of leading experts working with high responsibility and enthusiasm for the profession.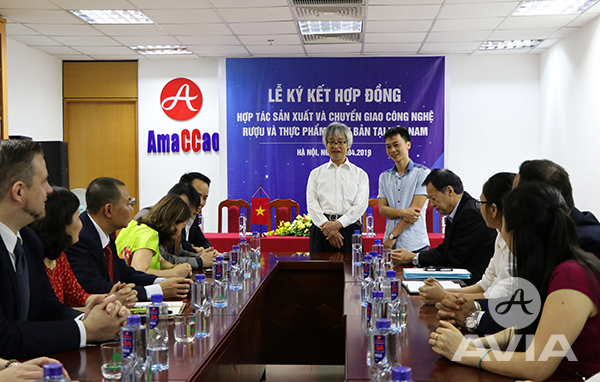 Mr. Naoya Mano highly appreciates AVIA's experience in developing wine and beverage products
During his time working in Vietnam, Mr. Naoya Mano will work with AVIA's technical staff to bring equipment, machinery, and technology for wine and food production to be applied to the factory to produce traditional wine. of Japanese people and clean foods that the whole world must admire. A leading Japanese expert will supervise the entire production process from the selection of input materials to the finished product, ensuring that AVIA will successfully produce Japan's famous delicious wine as well as other types of products transferred by the association.
The signing ceremony took place successfully, in a fun and open atmosphere between AVIA and the leading expert of the Japan Food and Wine Association.
Some pictures at the cooperation signing ceremony: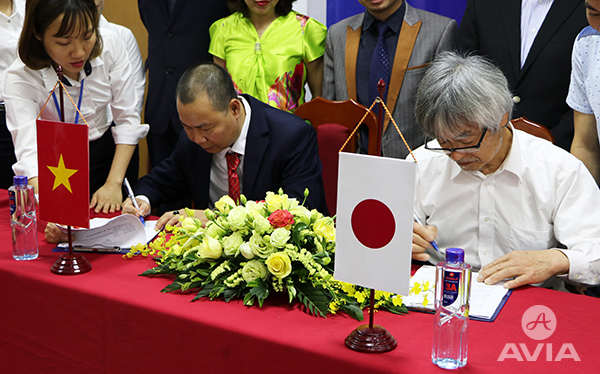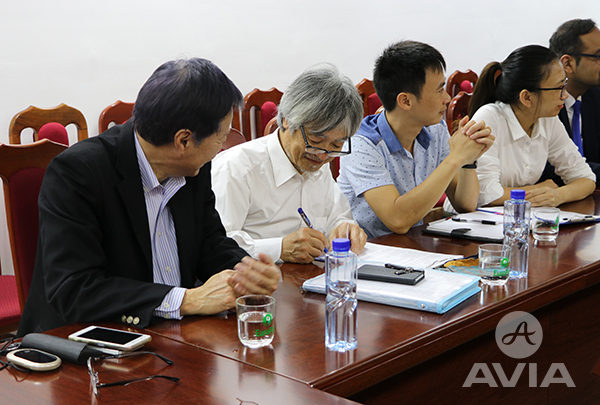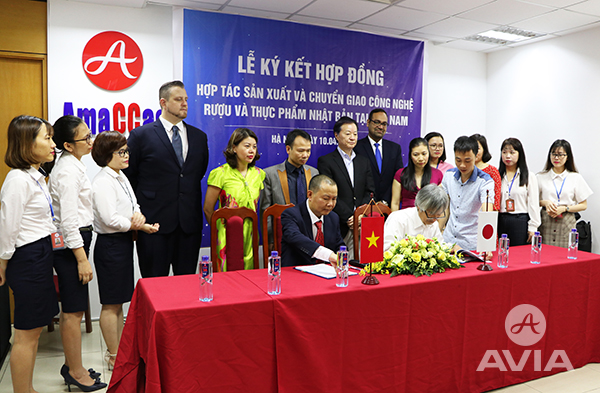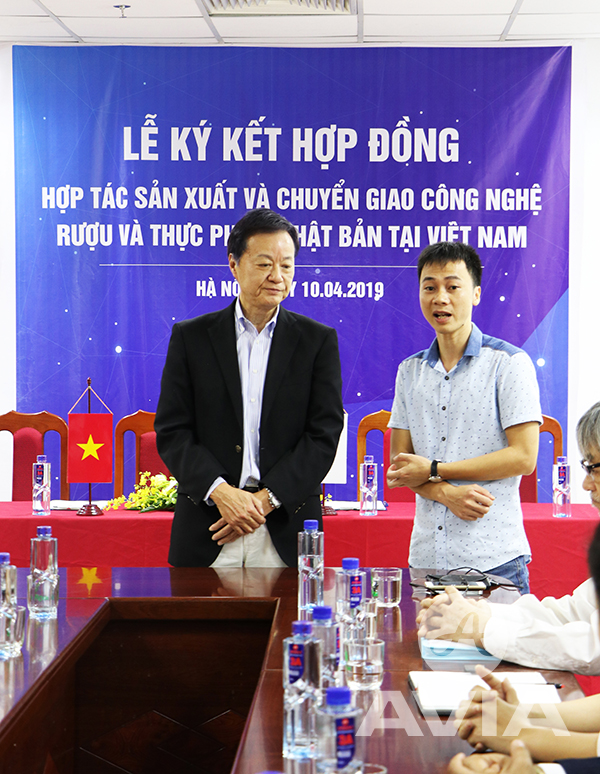 MC.