In order to improve competitiveness in terms of quality, design, and product range right at home, AVIA JSC continuously improves, researches, and develops new product lines to meet market demand.
With great consumption, the Vietnamese beverage market has a strong attraction not only for domestic enterprises but also for foreign investors who are also racing to find a foothold. Not only imported bottled drinks have flooded in, but foreign beverage businesses are also promoting franchising to develop production and business in Vietnam. That forces domestic beverage businesses to focus on improving competitiveness in terms of quality, design, and product range if they want to gain market share on their own "home turf".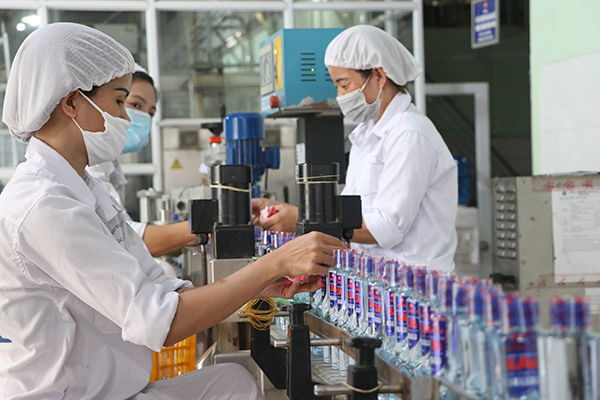 Avia – 3A water production line at AVIA winery – water
According to research by Vietnam Report Joint Stock Company (Vietnam Report), Vietnam is one of the markets with a very potential food and beverage consumption. With the change in consumption, in recent years, the beverage market has seen a marked change in both investment and product development, and the tendency to choose products with natural ingredients instead of carbonated water is increasing.
Ms. Nguyen Thi Hau – Deputy Production Director and Head of Technical Department of AVIA Joint Stock Company (Member of AMACCAO Group) said: "In the current fierce competition, AVIA is not out of the race. Our wine-water factory is expanding in both size and quality."
Currently, AVIA wine-water factory is in the process of completing a modern and professional product display & production complex to meet the development process of the company.
MC