AVIA JSC carried out the program for public health by providing AVINAA – 3A drinking water to schools in the area of Dong Anh District – Hanoi City.
From the beginning of July 2018, when the National High School Exam began, the Board of Leaders of AVIA JSC – a member of AMACCAO Group planned to bring clean water to each pupil – university student, the immediate is targeted at primary, secondary, and high schools across the country.
"Drinking water is a necessity in everyone's life, especially for pupils and university students attending school. To ensure clean drinking water and for their health, AVIA has launched a program of bringing clean water to schools. This is one of AVIA's key programs in 2018." said Ngo Thi Binh, AVIA's representative.
AVIA had a factory producing pure bottled water with the most modern, advanced level technology. After being lifted from the depth of over 200m, AVINAA – 3A water was processed through ISRAELI modern water purification system (manufactured in the USA) with reverse osmosis & Ozone methods.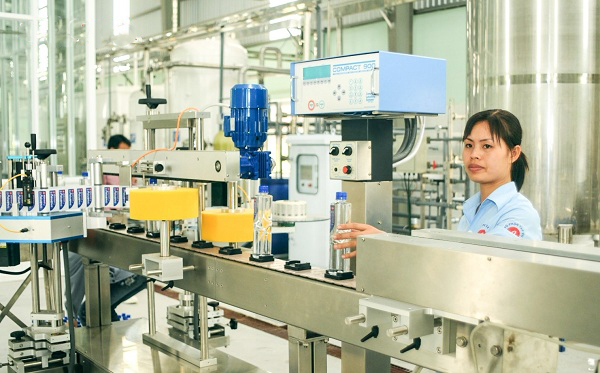 AVIA controlled strictly product quality before introducing into the market
With 10 filtration levels: RO filtration, nanosilver filtration, quartz sand filtration, activated carbon filtration, ultraviolet ray filtration, fine filtration, microfiltration, etc., this filtration technology allowed removing harmful substances. This treatment process was monitored and inspected very closely in accordance with international quality standards.
The reverse osmosis method was a common treatment technology in producing high-quality water. With this method, water was pushed through a semi-permeable membrane with very high pressure to remove ions, water molecules formed a barrier allowing other water molecules to pass through while eliminating most of the contaminants.
The water treatment method by Ozone would oxidize organic pollutants in water, similar to the way of using chlorine. An ozone generator converted oxygen (O2) in the air into O3 or ozone. Note that, as with chlorine, the water sterilization process by ozone is needed to calculate ozone concentration and appropriate exposure time.
Especially, AVIA used ISRAELI water filtration technology allowing to retain some minerals & natural condiments inherent in original groundwater, creating the sweetness as of natural rainwater, DRINKING ONCE BUT REMEMBER FOREVER (this is only with AVINAA – 3A).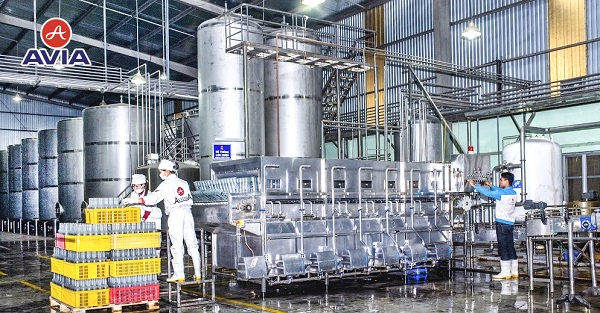 AVIA's modern water filtration system ensured the quality of water bottles
Bottled water products of AVIA had full conditions on food safety and hygiene; was the trusted product since 2011 to date. AVIA bottled water with AVIAA – 3A brand was also recognized for its work of health protection and community development, earned gold medals, and the title of Safe and Quality Food for Public Health.
This was why AVINAA – 3A bottled water was valued as the drink for health and having a sweet – cool taste, chosen by consumers for many years.
Therefore, bringing clean water to schools bore a lot of community meanings, welcomed, highly appreciated by schools and pupils – university students.