Unlike every year, this year's Vietnamese Women's Day 20/10 takes place right at the time when AMACCAO is sprinting to keep pace with many key projects. However, the congratulatory party on October 20 did not "cool down" because of that.
On the morning of October 19 in the cold weather, with light rain, the program Honoring AMACCAO women took place in a cozy manner right in the green campus of the Group's office. Temporarily putting aside the busy work, all the employees of the Group at the headquarters had moments to gather together and send the best wishes to the women of AMACCAO.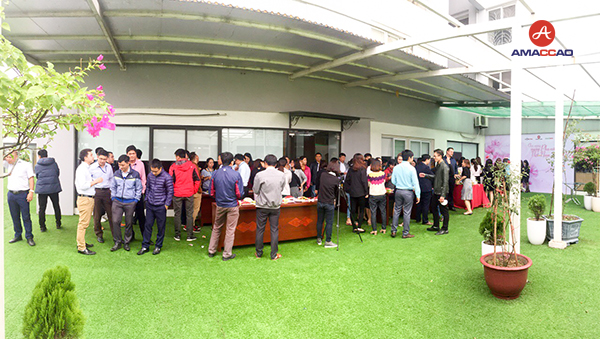 AMACCAO Group's employees gather on women's special holiday
As a special enterprise, operating in many different fields: production & business, construction & construction, education & training, real estate investment, AMACCAO almost every day runs the schedule. , ensuring both time and quality of products – services, best meeting the needs of partners – customers.
Although always busy with a large workload, at any time, whether working or participating in collective activities, AMACCAO people also show the common spirit: "Passion & relentless effort ". Especially women, because now they have really become an indispensable part, taking on many important positions in the Group.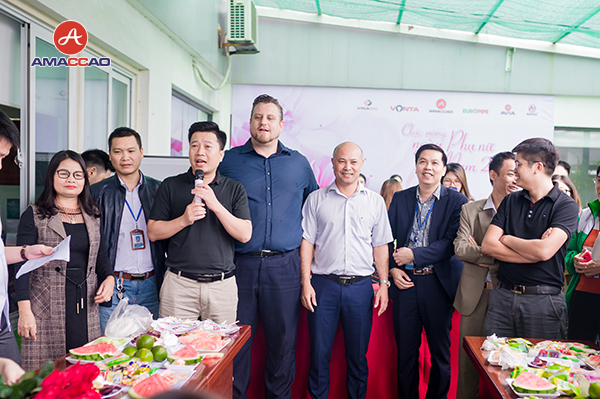 Mr. Pham Van Nghi – Vice Chairman of the Board of Directors of the Group, on behalf of AMACCAO men, congratulated the women
Sharing at the party, Mr. Pham Van Nghi – Vice Chairman of the Board of Directors of AMACCAO Group could not hide his pride and pride: "The women of AMACCAO are always gentle, soft but also very strong & fierce. when needed. You are truly a wonderful woman, carrying the spirit of AMACCAO. Wishing all the sisters, friends, and sisters – the colleagues of AMACCAO brothers, not only October 20 but also 365 days are happy days, full of energy, always happy and successful in life. We thank you, half of the world and half of AMACCAO."
Vice President Pham Van Nghi also sent special wishes to the women working in factories and industrial clusters who could not be present at the party at the headquarters. According to him, the women who are working in industrial clusters and factories of AMACCAO are all great people when directly producing, not afraid of difficulties, especially not inferior to men when they work. own technology, participate in important production stages with modern machinery and equipment lines, 100% imported from major countries in the world, directly transferred and trained by foreign experts.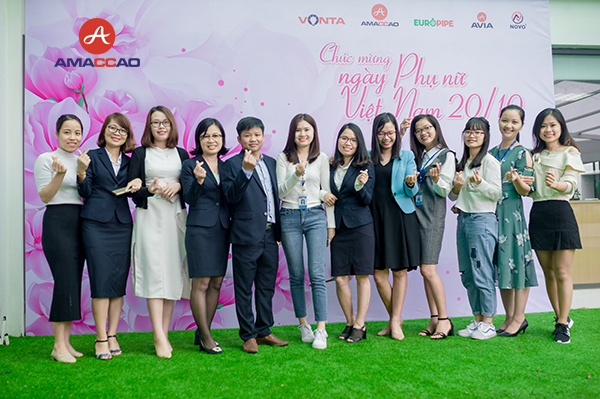 AMACCAO women capture wonderful moments on a special day
Not only Mr. Pham Van Nghi, but all of the brothers also sent their best wishes to the sisters on the occasion of October 20. Along with that were small surprise gifts. The cards are written by the brothers themselves, although the greetings are a bit awkward, the poems are still open, or even just "crap" stories, but when they receive them, every sister looks is very happy.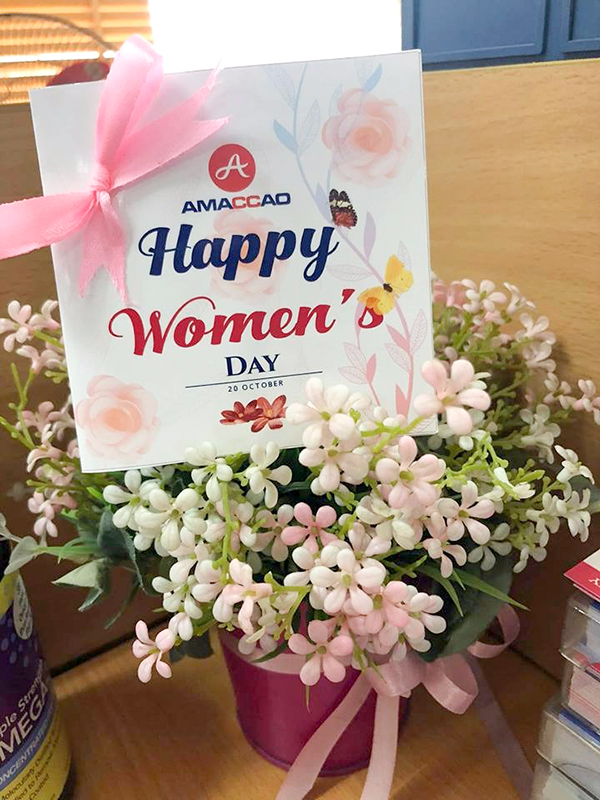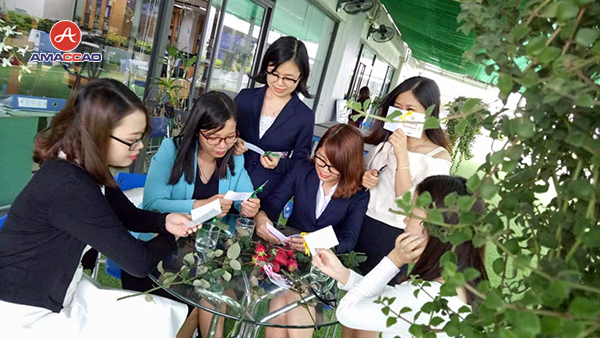 AMACCAO women are happy when they receive greeting cards written by "men"
The most surprising was the appearance of Mr. Jonas Paul Danielson, Business Development Manager of Euro Green Plastic Co., Ltd – EuroPipe (member of AMACCAO Group) with a large bouquet of roses, delivered to each person.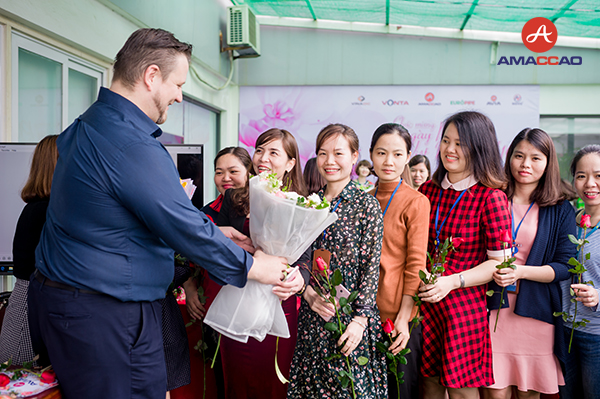 Mr. Jonas Paul Danielson, Business Development Manager, Euro Green Plastic Co., Ltd – EuroPipe presents flowers to the sisters
"I want to send my best wishes to Vietnamese women in general and AMACCAO women in particular. Thank you for being an integral part of the company, for inspiring and giving me great motivation to work with. I am really happy to see the bright smiles on your faces every day, the values ​​that you have contributed by working harder every day. You are not only the strong women in the family but also the driving force for the powerful men of AMACCAO"- Mr. Jonas Paul Danielson shared.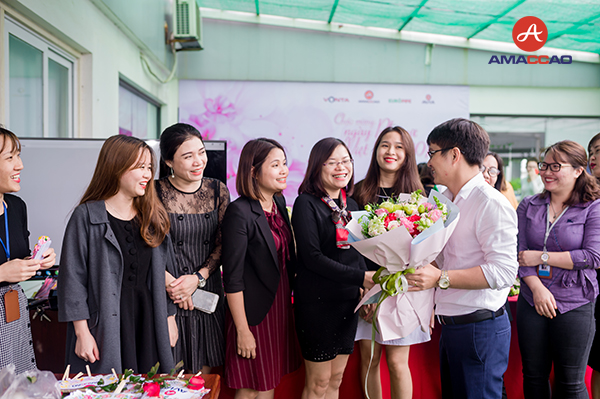 AMACCAO man gives surprise gifts to women
After the wishes, AMACCAO men gave special gifts to each sister. A few "homegrown" musical performances are also prepared to make the special women's day more exciting and comfortable. This is not only a day to honor AMACCAO women but also a festival for all employees at a time when they are racing against time to keep up with progress when a year is almost over.
Some pictures of the day: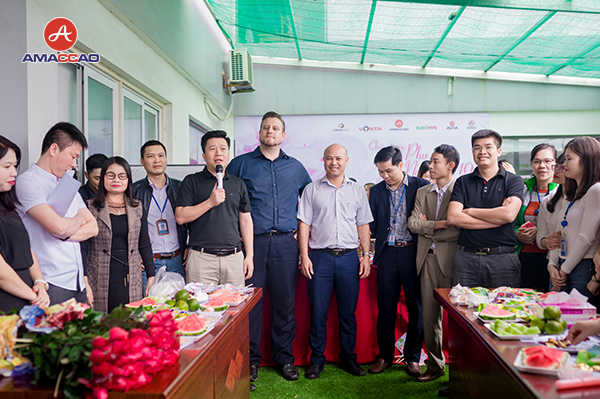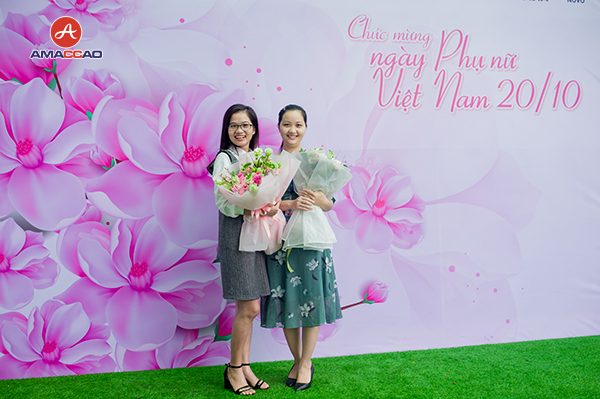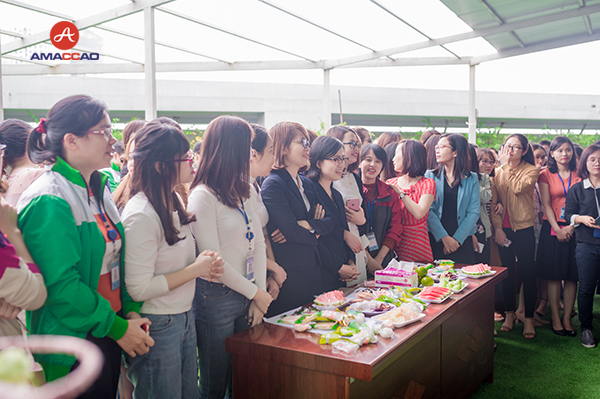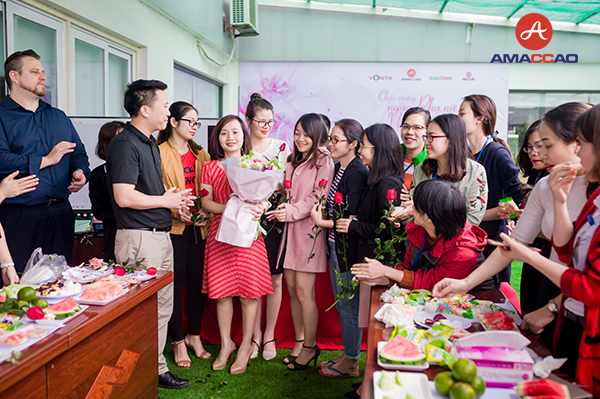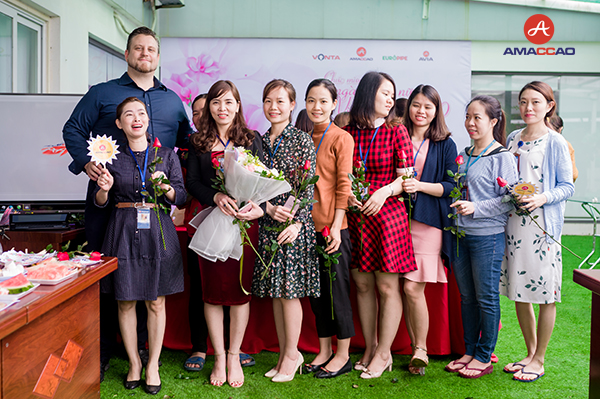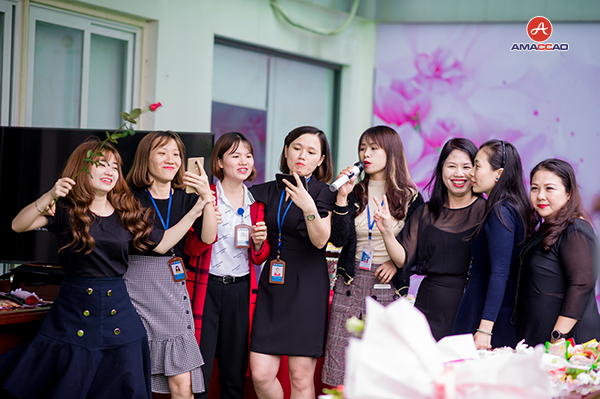 AMACCAO jubilantly organizes Vietnamese Women's Day October 20th