From clean, delicious pearls of heaven combined with fresh fruits and the passion of AVIA people, creating the most delicious, clean, and bold Akashi wine drops. Learn about Akashi's winemaking process now to see how each drop of wine is created by AVIA and of its quality!
Akashi is a fruit-infused wine made from white wine-soaked with fruits such as apricots, plums, guava,… to create the distinctive flavor of each fruit.
Currently, AVIA is providing Akashi apricot, plum, sticky rice, litchi, guava varieties. Before being put on the market, AVIA-branded Akashi drops have undergone strict production and censorship, the next part of the article will be the step-by-step process of creating Akashi AVIA.
Akashi AVIA alcohol production process
Akashi AVIA wine production process consists of 3 steps: Producing delicious wine, selecting sticky rice/fruit, and combining to create Akashi wine.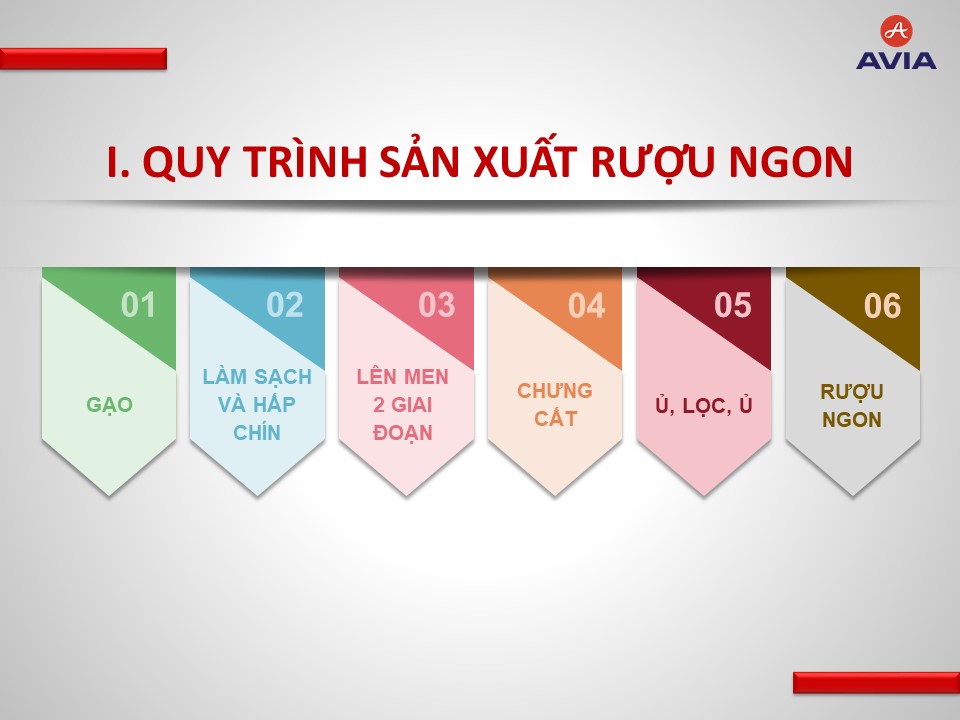 Step 1: Produce good wine
Selection of rice materials: To produce good wine, AVIA rigorously selects the best and most secure input materials. Rice is supplied from the Mekong Delta, the largest granary in the country, where nature is fresh, pure, and pure.
Cleaning and steaming: The steamer is set automatically from washing, cleaning, and steaming with saturated steam.
Fermentation 2 stages:
Selection of superior yeast strains for products with Vietnamese flavor, absolutely safe.
The fermentation process is divided into 2 stages according to traditional Japanese fermentation technology, run by Japanese experts in production and technology transfer.
Japanese technology fermentation equipment.
Fermentation indicators are strictly monitored and tested during fermentation.
Install an automatic fault reporting system on your smartphone to ensure control anytime and anywhere.
Distillation:
Modern vacuum distillation equipment allows to completely remove the first and last alcohol (the product contains many unsafe products such as aldehydes, methanol, high alcohol…).
The wine is cooled at the time of distillation, ensuring flavor retention and mellowness.
Annealing, filtering, annealing:
The aging process is carried out in 2 stages before filtering and after filtering. The incubation period is at least up to 1 year, combining cold incubation and storage at room temperature. After the second aging process, the wine matures completely and becomes mellow and absolutely safe.
Adopt multi-level filtering technology. Residual impurities are adsorbed and absorbed in turn through the filter devices. The alcohol components are broken down and bonded stably after filtration and during aging. The product after the filtration process ensures good and safe wine quality.
Finished good wine:
Products are thoroughly tested for safety indicators according to the standards issued by the company.
Select reputable analytical units such as the National Testing Institute for periodic analysis.
Step 2: Choose sticky rice / tubers / fruits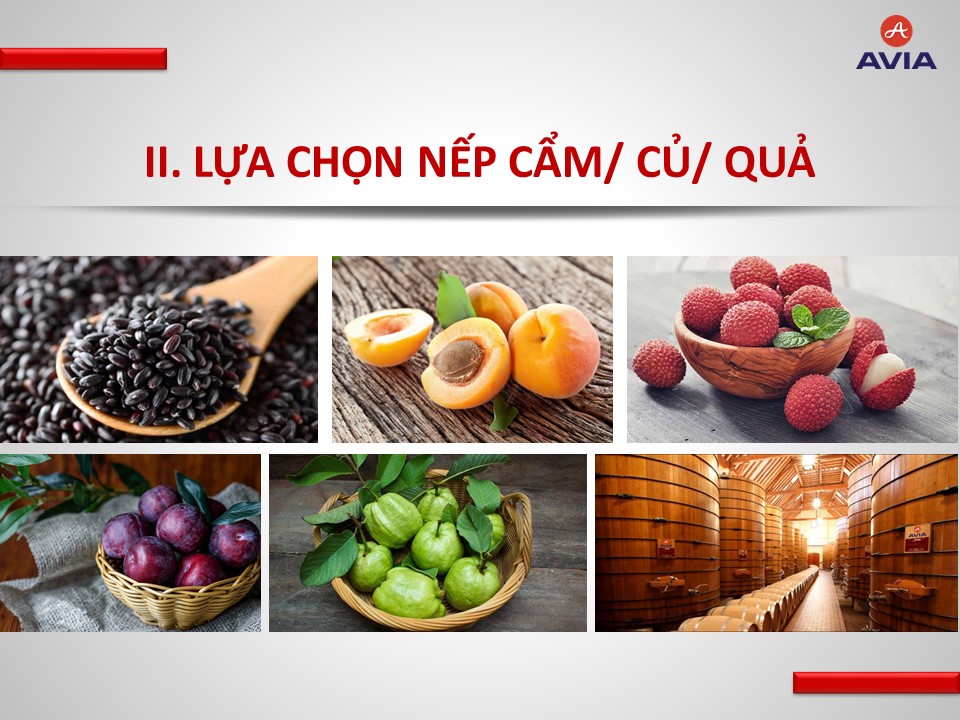 Glutinous rice: Delicious, sticky rice from the Northwest region – Dien Bien.
Apricots: Delicious, sticky rice from the Northwest – Dien Bien.
Plums: The ripe red plums in the May season of the Northwest mountains.
Litchi: Luc Ngan litchi – Bac Giang is carefully selected.
Guava: The guava is overflowing, fragrant.
Oak barrels: Special oak drums have a beautiful color and characteristic aroma.
AVIA actively selects and works with reputable gardeners, ensuring the supply and safety factors for harvested products.
Raw materials are classified and cleaned immediately after harvesting to preserve the flavor and character of the fruit in AKASHI Wine products.
Step 3: The combination that creates Akashi
Akashi alcohol products are the perfect combination between delicious wine and fresh specialties typical of many different regions.
After soaking, the flavors blend together to create Akashi, bottled, and finished products.
Above is the entire production process of AVIA Akashi brand alcohol. Shop at the location closest to you thanks to AVIA's distribution system.
——————————————————–
AVIA JOINT STOCK COMPANY (Member of AMACCAO GROUP)
Website: http://avinaa.com/
Hotline: (024) 66 505 581 or 097 150 2288
Factory: Block CN6, Nguyen Khe Industrial Park, Dong Anh, Hanoi
Representative office: 4th floor, Vuon Dao Building, 689 Lac Long Quan, Tay Ho, Hanoi.
#AVIA #AMACCAO #ionkiem #ion3a