Made from hand-fermented grains according to folk methods, Banh Di is a very popular type of alcohol in Vietnamese cuisine. However, each region has a different way of doing it, creating different types of "beautiful wine".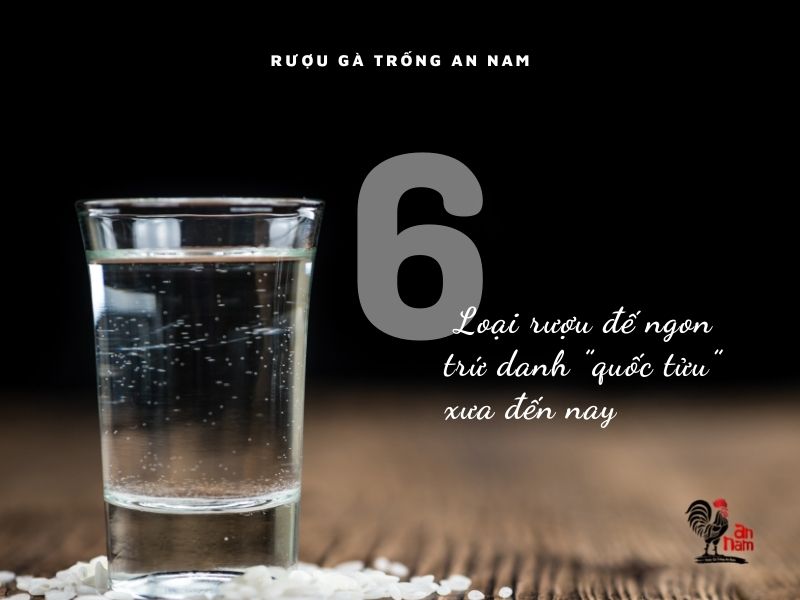 From the past to now, there are many famous types of imperial wine, but the most mentioned are the following 6 famous "national wines":
Wine of Van Village (Van Huong My Nuu)
Van village wine is a famous wine in Northern Vietnam. In the past, Van village wine was usually made from dried or fresh cassava, but today, this wine is mainly made from rice. Originating from Van Ha commune, Viet Yen district, Bac Giang today but a part of Kinh Bac province in the past, Van village wine has long become familiar as well as the familiarity of Bac Ninh Quan ho melodies.
Kim Son Wine
Kim Son wine is a famous wine of the Son Nam Ha region in the past, and now the land of Ninh Binh. Wine is cooked by traditional Northern medicine created by a number of families with a long tradition in Kim Son. Moreover, the water used to make wine is a special source of water that is only available here, so the delicious wine taste cannot be confused with other regions.
Bau Da Wine
Bau Da is the name of the old water bowl that the whole village of Cu Lam, Nhon Loc commune, An Nhon district, Binh Dinh shared. It is also a special source of water used for distilling Bau Da wine. This wine is considered a representative of Vietnamese fine wine in the central region.
However, since 2010, the water in this ancient Bau Da has dried up, now, the water that people use to make wine is mainly taken from the underground water of the village.
San Lung Wine
Along with Apple Meo wine, Bac Ha corn wine, San Lung wine is considered a famous delicious wine of Lao Cai originating from the Red Dao people in San Lung village, Ban Xeo commune, Bat Xat district.
This wine makes the drinker fascinated by the strange aroma from the yeast of the forest leaves and the delicious taste of upland rice. Different from other types of sole wine brewed from cooked corn yeast, rice yeast, or cooked cassava, San Lung wine is special in that it is brewed from rice and yeast from 15 different types of forest leaves.
It is the unique way of cooking wine of the Red Dao people combined with the typical water source and climate of that land that San Lung wine has a clear color, sweet taste, slightly greasy and faintly fragrant, pure.
San Lung wine was previously cooked very elaborately by the native Red Dao people to join the heavens and earth, so it is not only a famous delicious wine with culinary meaning but also a product with many cultural meanings and spiritual as well.
Bac Ha corn wine (Ban Pho corn wine)
Bac Ha corn wine is considered a specialty wine of the Dao and H'Mong people in the Bac Ha Plateau, Lao Cai.
This wine is cooked with water from Hang De stream and yellow corn is grown on high rocky mountains, not ordinary corn grown in valleys and upland fields. Along with that is yeast made from the cotton powder of the "pa" tree (Hong My tree), a typical tree of the Bac Ha highlands. Therefore, the wine has a strong aroma and is very delicious to drink.
Mau Son Wine
Mau Son wine is a specialty wine of the Dao people in Mau Son, Lang Son, distilled manually by traditional methods dating back thousands of years, using pure water taken from streams flowing inside the mountain. at an altitude of more than 1000m and forest leaf enamel is made from more than 30 precious herbs in the deep forest.
Thanks to that, Mau Son wine has a clear, strong aroma, poured into a sparkling cup, very mellow and rich, but not hot. In particular, when drinking Mau Son wine, you will feel the typical flavor of forest leaves and roots.
Do you know any other types of base wine, please comment now!
——————————————–
An Nam Rooster Wine
Hotline: 097 150 2288
Website: http://avinaa.com/
Address: Vuon Dao building, 689 Lac Long Quan, Tay Ho, Hanoi.