Bringing a sweet and cool feeling when drinking, AVIA 3A water (AMACCAO GROUP) affirms its outstanding quality and customers' trust when it becomes a popular brand in the summer of 2023.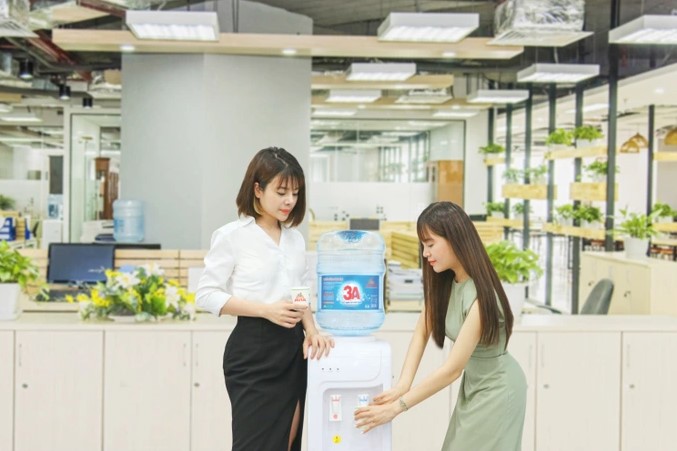 Consumers often look to bottled water products with a good reputation, which has been tested for safety and proven for a long time like AVIA 3A to use.
AVIA 3A – Safe drinking water for health
According to the National Center for Hydro-Meteorological Forecasting, the summer of 2023 is forecasted to be the hottest time in recent years due to the El Nino phenomenon. Heat increases the need for water as the body loses water through the skin (increased sweating) and through the lungs (increased breathing rate).
For people in urban areas, the use of bottled water has become a habit due to the convenience that this product brings. Purified water also limits the risk of creating kidney stones and urinary stones like mineral water if heated.
However, on the market, there are many types of bottled water that are produced manually, the treatment process does not guarantee quality, and the product is not tested. There are many cases where customers buy water products that still contain impurities, dirt, living organisms… health.
Currently, users often look for products with a good reputation, which has been tested for safety and proven for a long time like AVIA 3A to use.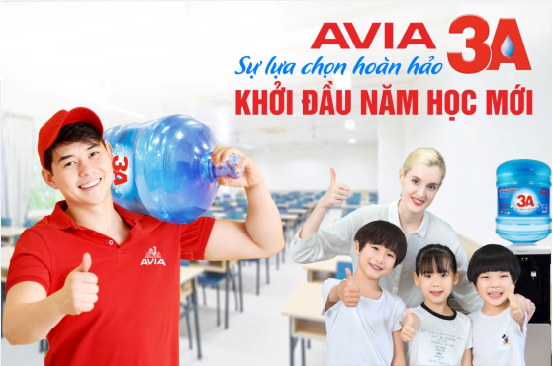 AVIA consecutively won many awards, ensuring food hygiene and safety, and quality meeting export standards.
With 15 years of experience in beverage production, AVIA is in the top 20 "Trusted consumer products in 2011", the top "Vietnam's leading brands 2020" and the top 10 "Brands in Vietnam". prestige brand in 2022″. This is also a water supplier that schools in many localities rated A (the highest) in surveys of service, beverage, and food quality.
6 outstanding advantages of bottled water AVIA 3A
First, the factory is invested up to VND 500 billion with an area of ​​10 hectares, using the world's leading modern technology, operating under strict quality control of European and Japanese experts.
A company representative said that AVIA is one of two factories in the North that owns an American automatic production line, a completely closed production process in a sterile environment. This helps prevent the entry of contaminants, ensuring food hygiene and safety.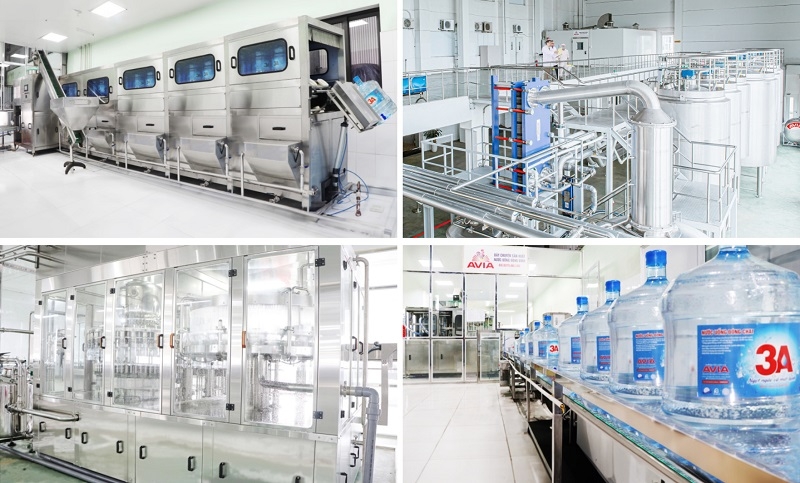 AVIA is one of two factories in the North with automatic production lines in the US, for a fully closed production cycle.
Secondly, AVIA 3A is exploited from groundwater with a depth of over 200m, providing top quality thanks to its higher stability compared to conventional surface water, the quality and composition of water are less affected by factors. external inspection. This is also one of the best water sources in Hanoi.
The third is a detailed and intelligent treatment system with 10 levels of filtration, to ensure safety without losing the characteristic sweet and cool taste of natural rainwater. Accordingly, groundwater will go through coarse filtration to remove a part of coarse sediment, iron, manganese, and heavy metals (if any). Next, the water is passed through the fine filtration stages to remove odors, colors, and organic substances, and impurities.
To remove chemical hazards, heavy metals, toxic chemical residues, and microorganisms, the water is further filtered by RO reverse osmosis, and filtered through UV rays, Ozone. After that, the water is bottled by modern lines. The bottles of AVIA are also washed and filled with an automatic process in a sterile environment to bring the finished product to safe, clean water droplets.
With high purity, AVIA 3A water is the right choice for making hot drinks such as tea, coffee, and milk… instead of mineral water that can cause mineral deposits in the excretory system.

The 10-level intelligent filtration system removes microorganisms and harmful substances.
Mr. Tran Anh in Minh Khai, Hanoi, said that his family chooses to use AVIA 3A water in eating and drinking, and daily activities not only because the product is safe and convenient but also "addictive" due to the different taste of the water.
"The family is used to drinking AVIA 3A water, so they don't want to switch to another type. We don't need to boil water and wait for it to cool to drink on hot days and still have safe water to use. Moreover, AVIA 3A gives The feeling of pure nature and helps us feel confident and refreshed every time we use it," he said.
Fourth, AVIA's bottled water is always rigorously tested for quality. At each stage, the finished water is always sampled in a European standard laboratory located at the factory to control the input and output of each filtration stage.
AVIA 3A water not only meets the quality standards and regulations of Vietnam's law on bottled drinking water but also passes the testing rounds of the world's top fastidious markets such as the UK, the US, Japan, and Singapore… to serve the continuous export to these markets.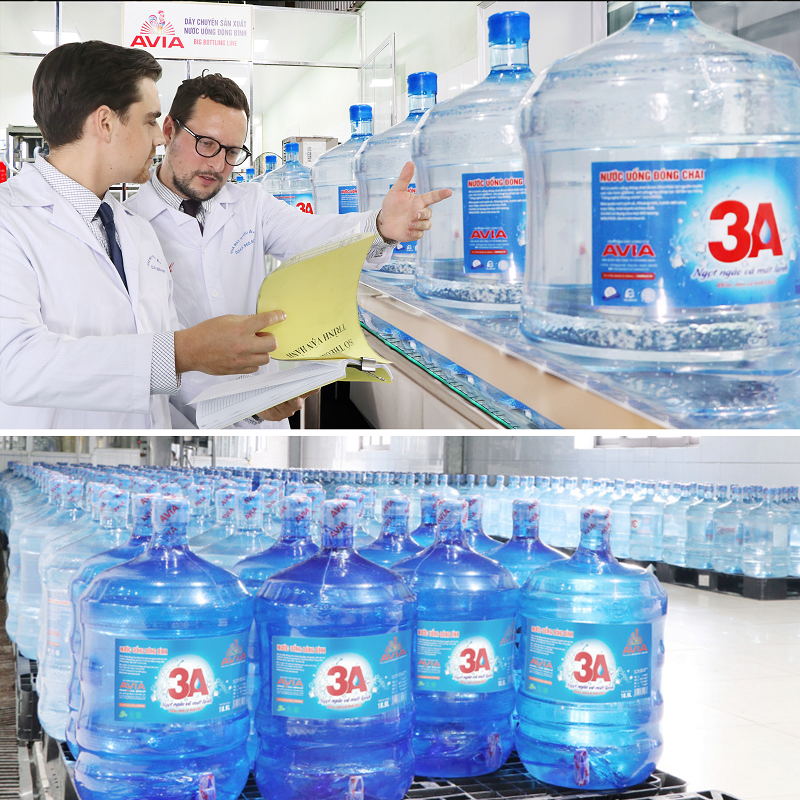 To meet the market demand in peak periods, the factory always has to work 3 shifts, ensuring fast and efficient production and transportation.
Five is an extensive distribution system, which can meet the great needs of customers. AVIA 3A country is present in a series of large supermarket systems and selling points spanning over 50 provinces and cities, ready to supply in large quantities.
In Hanoi, AVIA is currently continuing to expand its network of distributors and agents to reach more customers. To meet the market demand in peak periods, the factory always has to work 3 shifts, ensuring fast and efficient production and transportation.
Six is a reasonable price policy, suitable for people as well as schools, hospitals, and agencies …
According to the representative of AVIA's distributor in Hoai Duc, Hanoi, the price of AVIA bottled water is affordable for people, but the quality is at the top, so more and more customers are looking to buy products.
"This summer, the consumption of AVIA 3A bottled water has increased dramatically, not only because of the hot sun but also because the brand has really created a strong belief for users about a product with the taste of the rainwater of Vietnam. Vietnamese people, international quality, serving Vietnamese people", the distributor representative shared.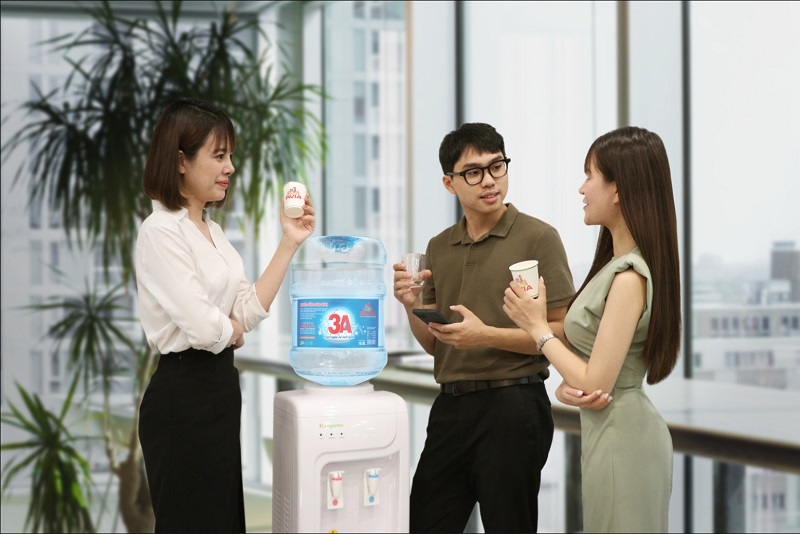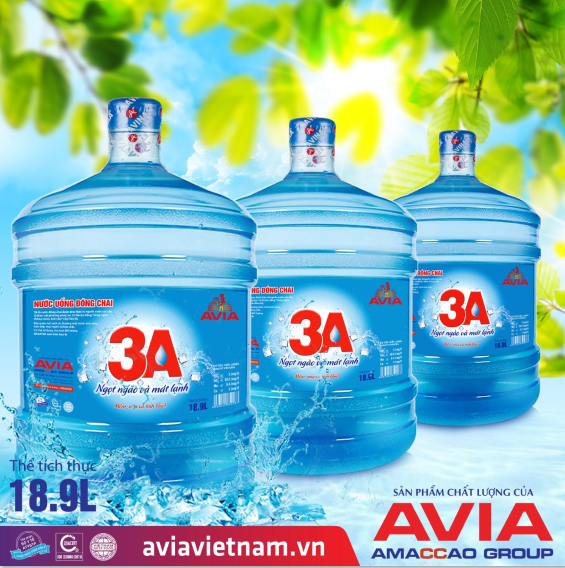 AVIA builds a reasonable price policy, suitable for people as well as schools, hospitals, and agencies…